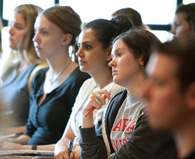 Your active involvement in personalizing your overall academic plan is a foundational requirement of the current GE program. It's your responsibility to make the choices that best let you integrate your GE courses with your major, minor, and larger learning goals. You have academic advising support available to you as you develop your plan.  
The GE program has four parts. These four categories let you develop breadth, make interdisciplinary connections, and pursue your interests. Read about each category and consider ways in which your choices in each strengthen your overall academic plan.  
To read, view, and design your academic plan, see below for each part of the current GE Program.
Freshman Foundations Program -  The Freshman Foundations Course (FFC) is the common starting point of the General Education program. All entering freshmen enroll in an FFC section of their choice, and all sections, while varying in topic, share the same learning goal: in FFC, students critically analyze and communicate complex issues and ideas.
Shared Inquiry Courses - Shared inquiry courses are distinguished primarily by inquiry approaches rather than individual disciplinary areas.
Inter/Multidisciplinary Cluster - Provides students an opportunity to explore an area of interest from an inter/multidisciplinary focus.
Global Citizen Cluster - Allows students to explore the diversity inherent in our social and natural environments, including human diversity and world cultures.
Be sure to read the GE Guidelines to familiarize yourself with the flexible options of the current GE Program. Your AAC Advisor can direct you to suggested GE program options by major.